The Great Excavation: How do Leagues work?
In this event, you will have the chance to participate in Leagues and win even more fantastic prizes! Finding Amuni's Knowledge in the exploration area allows you to reach Grand Prizes rewards progress up through the Leagues !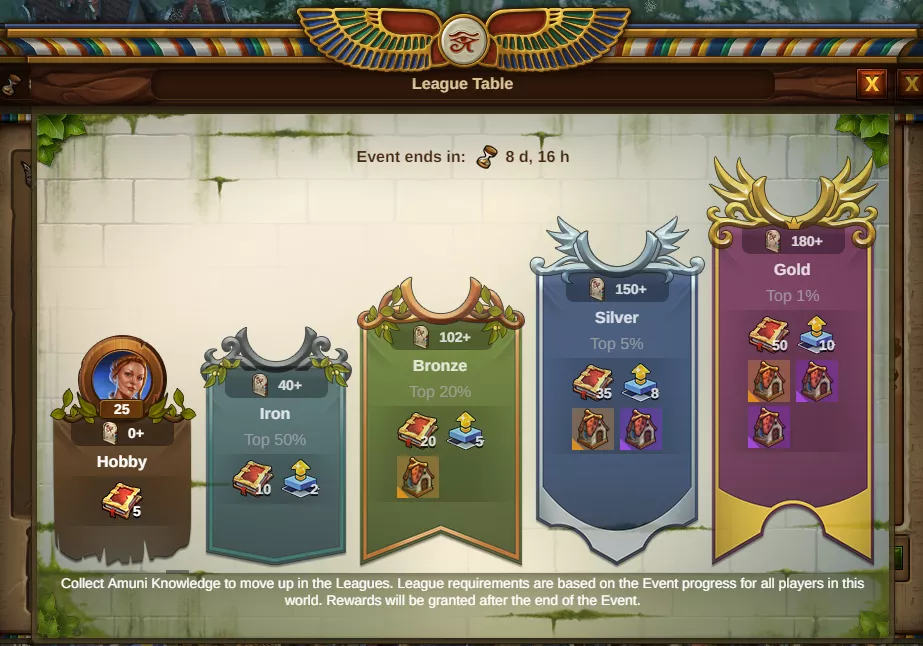 You can reach five different Leagues: Hobby, Amateur, Bronze, Silver, and Gold League. Each League is limited to several players with the required amount of points for that League. If a league is already full, you will move to the next League down. Remember, the positions on the Leagues are recalculated every hour, so do not give up hope and keep progressing on the event map to be able to progress in the Leagues also!
• Hobby - All Players
• Amateur - Top 50%
• Bronze - Top 20%
• Silver - Top 5%
• Gold - Top 1%
For the Hobby League, you only need to start playing the event. As for the rest of the Leagues, you need to collect Amuni's Knowledge to progress through the Leagues.
Each League has a minimum amount of points that need to be reached. The League requirements are based on the progress of all players playing the event, and it is recalculated every hour, so you might notice some changes on the required points to achieve the next League.
If you hover your mouse over the Leagues icon in the event window, you can see your rank and how much further you have to go until you reach the next League.

For more information on The Great Excavation event and everything related, please also check out our
wiki!
Related articles