Protection Temple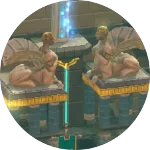 The Protection Temple holds the Divine Powers responsible for improving the defenses of your city.
Every upgrade of the Protection Temple will unlock some new Divine Powers to be researched (including access to higher tiers of fortifications). To be able to conduct research in the Temples, you need to get enough Elixir. That you can get either by generating it in the Sanctuary, or from the Shrines which randomly show up on the map after killing beasts.
The Protection Temple itself does not provide any special bonus other than providing a place to research Divine Powers and unlock more powerful fortifications.
---
| | |
| --- | --- |
| Level | Power* |
| 1 | 600 |
| 2 | 900 |
| 3 | 1200 |
| 4 | 1800 |
| 5 | 3000 |
| 6 | 4800 |
| 7 | 7200 |
| 8 | 9600 |
| 9 | 15600 |
| 10 | 24000 |
| 11 | 36000 |
| 12 | 54000 |
| 13 | 78000 |
| 14 | 120000 |
| 15 | 180000 |
| 16 | 264000 |
| 17 | 420000 |
| 18 | 600000 |
| 19 | 900000 |
| 20 | 1320000 |
| 21 | 2160000 |
* Total Power amount provided on each level