How can I save my game progress and play across multiple devices?
The only way to save your Warlords of Aternum game progress is by connecting your game to Google Play (Android) or Game Center (iOS), which should happen automatically when logged into one of these services while starting the app.
How to connect my game account
If your game progress is not connected yet, follow these steps to connect Warlords of Aternum to your Google Play or Game Center account:
Go to your device settings and log onto your Google Play or Game Center account.
Launch Warlords of Aternum.
Tap on the gear icon to access your game settings.
If not connected yet, tap on the login button.
While your account is connected:
your game progress is automatically saved,
you can transfer your progress from an old to a new device, and
you can sync your game between several devices on the same platform (Android or iOS).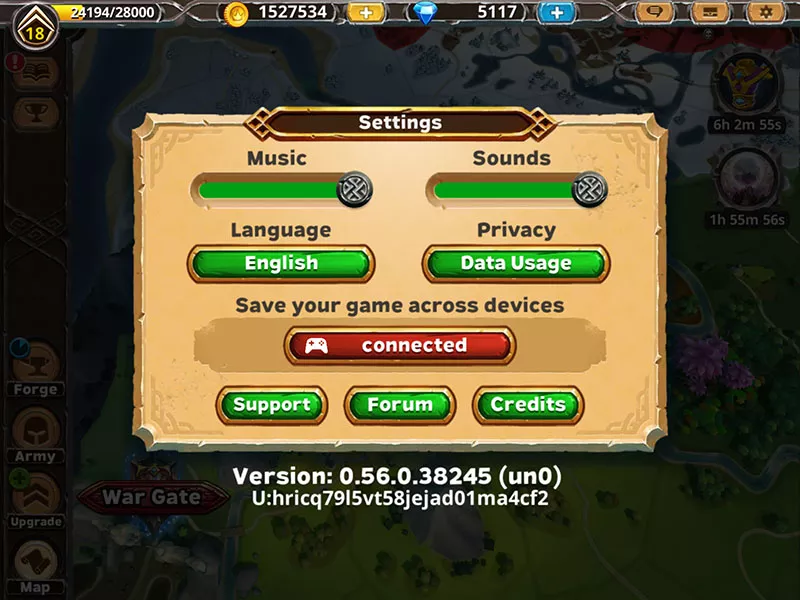 Accessing my game account on multiple devices
Playing your game progress on multiple devices is only possible if they are using the same operating system (Android or iOS). You cannot share your game progress across multiple platforms.
For example, if you followed the procedure above and connected your game account with Google Play Games, you can play on any supported Android device using the same Google Play account (you have to be logged in for this). However, you will not be able to access your game progress on an Apple device or vice versa.


Note
If your account remains inactive for at least 30 days, it may get deleted.