What is the Paragon Level of a Regiment?
The Paragon Level of a regiment is a level indicating progression of a regiment past the basic cap of 23 Regiment Levels.
Once a regiment has reached the level 23, it can start gaining Paragon Levels (current max. Paragon Level is 50, which will be increased in the future).
Each Paragon Level will add more soldiers to the regiment: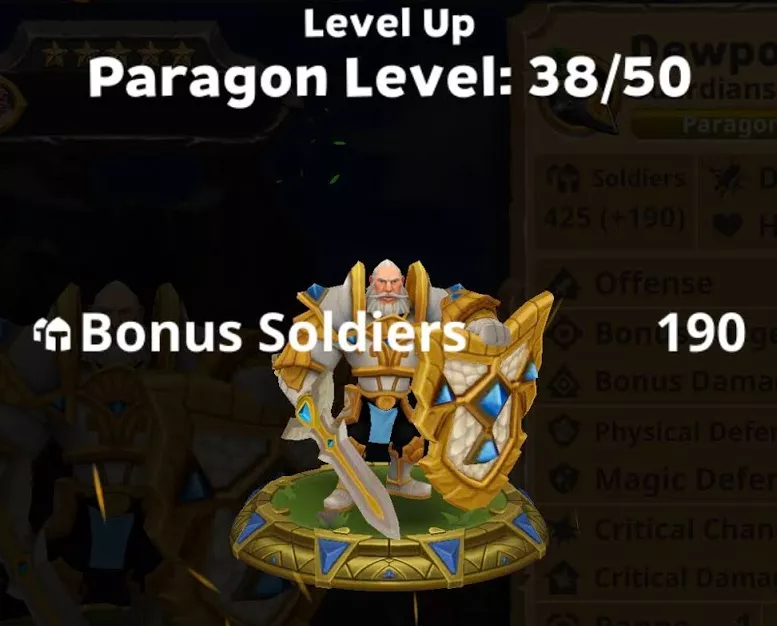 The bonus soldiers from Paragon Levels will join the PvE battles, but not PvP ones.
How to increase Paragon Level
Paragon Level is increased by using Ambrosia Elixir. You can apply it on any regiment from within the Army window, in the spot that is used for XP potions by regiments below level 23.
How to obtain Ambrosia Elixir
Ambrosia Elixir is sold by Moll, in the Inventory view. She will not accept your gold, but she will happily take everything else: upgrades, shards, XP potions, scrolls and forge materials. Be careful what you sell though - Moll does not do refunds.
How many soldiers do I get per Paragon Level?
That varies from one regiment to another and is minimum 1 and maximum 10.
Related articles