Castle System - Which rewards can I get?
The Castle Level Rewards
In the second section you can see the rewards you'll be receiving when you reach the given level which is seen at the top. As the image shows you will be awarded with both one-time rewards and permanent rewards. The one-time rewards go straight to your inventory while the permanent rewards are boosts that strengthen your city. As you reach higher Castle Levels, the boosts will get stronger.

The Daily Reward Chest
In the third section there is the Reward Chest. The Reward Chest is a chest that contains Forge Points, Current Era Goods and Previous Era Goods. You can collect the rewards on a daily basis, so make sure you log in and collect the reward every day!

Rewards
There are plenty of rewards for levelling up your castle. Among them will be both one-time rewards and permanent rewards.
Among the one-time rewards, there will be:
Shrink kits: For both the Wishing-well and the Rogue Hideout.
Buildings: Such as the Shrine of Knowledge, Rogue Hideout and Wishing-well.
Rush-items: For both coins and supplies.
Portraits: Up to 11 new portraits are available.
Emissary slots: Up to 3 new emissary slots.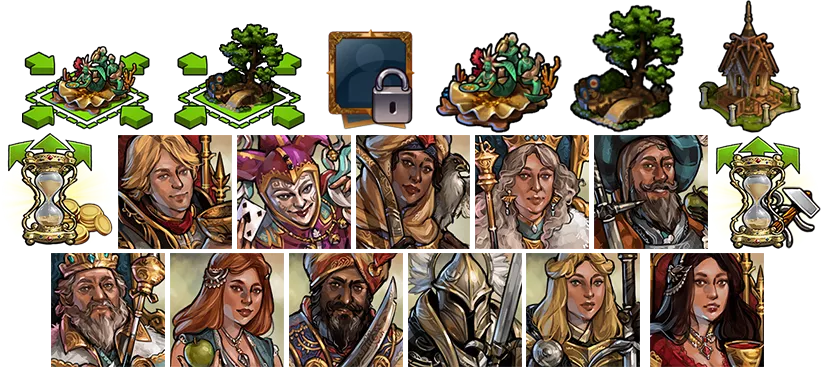 Among the permanent rewards, there will be:
Coins and supply boosts.
Attack and defense boosts for attacking army.
Friends tavern - coin cost reduction.
Campaign Map - lower travel time.
Antiques Dealer - More Coins and Gems when selling, and an extra Antiques dealer slot.
PvP Arena - lower cooldown for attempts.
Cultural Settlement - More Forge Points when finishing an outpost & lower cooldown when abandoning outpost.
Related articles