What are Fragments?

Fragments are pieces of rare rewards like the Wishing Well. You need to collect different amounts of Fragments of a certain reward.
If you collected enough, than you can get the actual reward.
How do Fragments work?
All Fragment rewards are marked with a blue puzzle piece. If you collected a Fragment, it will show up in your inventory, where you can also look up, how many Fragments are needed for the reward: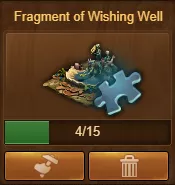 If enough Fragments of a certain reward are collected, you can assemble them in your inventory: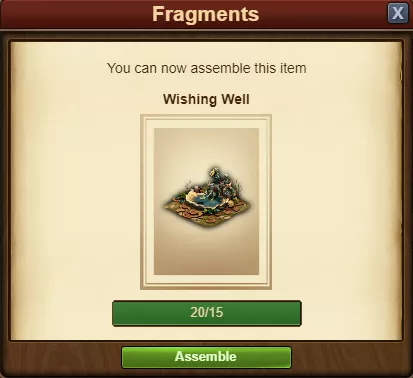 The assembled reward will be placed in your inventory.
List of Fragments
| Fragment | Assembled Building |
| --- | --- |
| Fragment of Wishing Well | 15 Fragments needed to assemble Wishing Well |
| Fragment of Wishing Well Shrink Kit | 15 Fragments needed to assemble Wishing Well Shrink Kit |
| Fragment of Shrine of Knowledge | 15 Fragments needed to assemble Shrine of Knowledge |
Related articles