What is Gold and how can I get it?
Gold is one of the main currencies in the game. Gold can be obtained from various places in the game.
Winning battles (PvE battles, Raiding Brigands (Loot Wagon battles), Strongholds, Boss Battles, Brigand Island invasions)
Selling upgrades
Daily rewards
Sky Arch expeditions
Smuggler Ship & Imperial Ship
Exchange Diamonds for Gold at the Merchant
Exchange War Coins for Gold at War Harbor
Total Trophies collected at end of PvP Seasons is exchanged for Gold at a ratio of 1:1
Placement in various divisions during a PvP Season
Crushing Victories earn you additional Gold on top of the base rewards
20% extra Gold reward from battles after having applied the Quartermaster upgrade once
Buy Gold with Diamonds in the Shop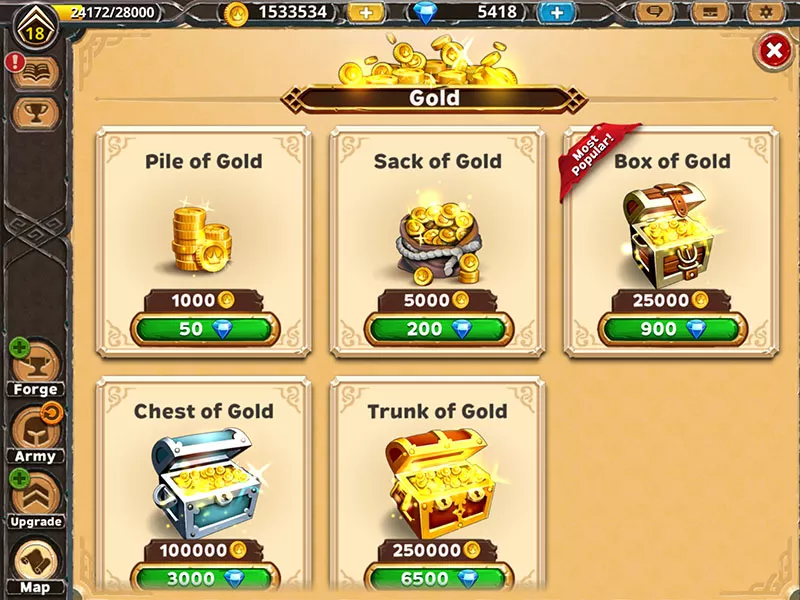 Gold is used for:
summoning Merchant Ships in Dewport Harbor,
upgrading items in the Forge,
applying Upgrades to your regiments,
exploring new provinces, and
purchases (e.g. upgrades or potions) at the Merchant.

Related articles